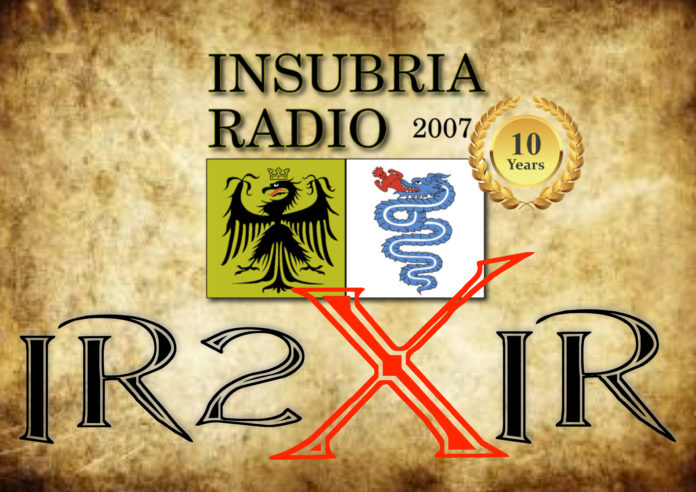 10th Anniversary Day : October 14, 2017
Sono passati dieci anni esatti e ovviamente festeggeremo ON AIR il compleanno dell'Insubria Radio Club attivando i nostri nominativi IR2XIR e HB9/IQ2IR …

Ci trovate in varie bande e modi con i nostri due call attivati dai vari soci del Club… cercateci per un saluto e per altri due collegamenti per completare l'award del nostro decimo anniversario !
info :   www.qrz.com/db/ir2xir
Special callsign IR2XIR on air only in 2017 to celebrate the 10th Anniversary of Insubria Radio Club
All QSL cards, direct and via bureau, will be sent in December 2017
X Anniversary Award
The INSUBRIA RADIO CLUB was founded on October 14th, 2007,  thenceforward its member operated several times with the callsign IQ2IR or IQ2IR/P.
IR2XIR is the special event callsign issued to celebrate the 10th anniversary of foundation of Insubria Radio Club  and will be operated by members of the club in different dates during the 2017.
New dates will be scheduled later and could be found on the websites: www.insubriaradio.org    and     https://www.qrz.com/db/ir2xir
The Insubria Radio Team  invites all YL/OM/SWL to partecipate in the X Anniversary Award will be issued in electronic form ( PDF – file), is free of charge and can be earned with 10 QSO/HRD with IR2XIR and/or IQ2IR, IQ2IR/P, HB9/IQ2IR (only one daily QSO)  starting from 01/01/2017 to 31/12/2017.
Honor Roll X Anniversary Award (PDF – free) can be requested adding 10 QSO/HRD to the previous request with IQ2IR and IQ2IR and IQ2IR/P, HB9/IQ2IR (only one daily QSO) starting from 01/01/2008 to 01/12/2016.
Many thanks in advance for sharing this celebration with us!